Who doesn't enjoy a tasty piece of candy from time to time? Aristocrat knows this to be true, which is why the company has released the Sugar Hit Jackpots slot game in casinos throughout the world.
Although the theme is unique, and this is sure to keep you occupied for quite some time, don't overlook everything else that this game has to offer.
Before we go any further, remember this: you won't have a hard time pinpointing a Sugar Hit Jackpots slot machine on the casino floor. It sticks out like a sore thumb, thanks to the bright colors, loud sounds, and unique configuration (more on this below).
Three Games in One
There is more to Sugar Hit Jackpots than what you see on the surface. Instead, there are three available titles based on the theme:
Reel Sweet Stacks
Rich Rich Chocolate
Cool…I Scooped It Again
It doesn't matter which title you choose, nothing changes the fact that the 3D graphics, artwork, and engaging animation is enough to put a big smile on your face.
Note: if you want to learn more about this game, including a closer look at the machine itself, you can visit the official Aristocrat Technologies website.
Game Details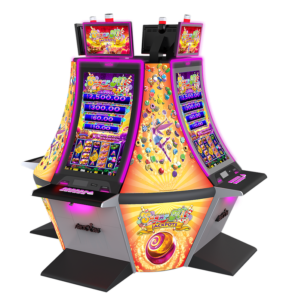 Now, it's time to learn more about the details that have made this game such a big hit in a short period of time. Here are a few things to chew on:
Platform: Helix or Arc Single
Denomination: $.01
Maximum wager: 600 credits
Minimum wager: 60 credits
Configuration: 5-reel, 40-payline
Top award: progressive jackpot with a $2,500 reset.
Hit frequency: 50%
As a J*Series game, you know that the action will be fierce and the payouts will be big. The only question is: are you willing to sit down, spin the reels, and hope for the best?
Getting Started with Sugar Hit Jackpots Slots
You know the details, including how much you have to wager and how much you can win. If you like what you've read so far in this review, you'll want to learn more about getting started.
Thanks to the help of the Sugar Fairy, you have somebody to guide you through each title. Base gameplay is exactly what you would expect, but there are some other things to keep in mind:
The use of a four-level progressive jackpot.
The implementation of mini features.
The opportunity to win free games.
Note: as mentioned above, the reset for the Grand progressive is set at $2,500. For the Mini the reset is $10, for the Minor it's $60, and for the Major it's $300.
Make no bones about it, this is one of the top games Aristocrat has ever released, thanks in large part to its multiple titles. Since each one is unique, you need to spend some time with all three.
For example, Reel Sweet Stacks has a lot going for it thanks to a wild feature that improves your odds of winning a progressive jackpot.
Rich Rich Chocolate is no slouch itself, thanks to a re-spin feature that keeps you in the game longer. Not to mention the fact that it also improves your chances of a progressive win.
And who could forget about Cool I Scooped It Again? The primary benefit of this title is the ability to win as many as five jackpots in a single spin of the reels.
The Sugar Hit Jackpots Experience
It's easy to become so consumed in choosing a title and chasing a progressive jackpot that you overlook the experience around you.
Did you know that this game is played on a 42-inch high-resolution LCD screen? How about the fact that it features floating display monitors? When you add this to a super powerful quad sound package, you're left with a total experience that will blow you away.
Aristocrat has done it Again
Aristocrat has hundreds of games in its library, including old time favorites like Firelight slots. Even so, the company continues to pump out new games that mesmerize players.
Since its release in early 2016, Sugar Hit Jackpots has quickly moved to the top of the industry. This is due in large part to the layout and configuration, three game titles, and of course, the inclusion of four progressive jackpots.
Note: watch this video to learn more about the game, including how you can become a winner yourself.
SlotsJack is in Love
If you've read any of our other Aristocrat slot machine reviews, you know that we enjoy pretty much every game that the company offers. With that being said, we are firm believers that this one is the cream of the crop.
We know that every player will make his or her own decision on whether or not to play a slot game, but this one doesn't leave much to be desired. Every feature is one that you'll enjoy, but these three are our favorites:
A four-level progressive jackpot.
Three unique titles to choose from.
The use of a massive, high-resolution LCD screen.
The next time you're walking through a casino, such as the Borgata Hotel Casino & Spa, keep your eyes out for a Sugar Hit Jackpots slot machine. It'll be hard to miss!