Go back in time many years and the Maya civilization was a dominant society. Thanks to Aristocrat and its unique line of thinking, this has continued into today's day and age via a crazy popular casino game.
When you play a Sun and Moon slot machine, it won't be long before you feel like part of the earliest Maya settlements in 1800 B.C.
From the beautiful theme, complete with an ancient temple, to the many reel symbols depicting Maya culture, you'll never guess twice as to what this game is all about.
Play and Win
Sun and Moon slots are among the most flexible ever offered by Aristocrat, and that's saying a lot when you take into consideration the many games it has developed (including some popular classics).
On the low side, you can get your feet wet by wagering two coins per spin. For high rollers, those who want to lay more on the line, the maximum wager of 5,100 coins per spin will suit your fancy.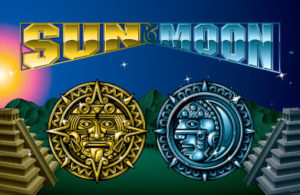 Any win is a good win, but there's something in particular you should be watching for: two or more moon or sun symbols on the reels.
If you land two or more of one of these, here's the result:
2 symbols award 5 free games.
3 symbols award 10 free games.
4 symbols award 20 free games.
5 symbols award 50 free games.
As you may have found out with other Aristocrat slot machines, including Wild Panda, free games are often just the beginning. The same holds true with Sun and Moon.
If you're lucky enough to win free spins, any wins during this bonus round are doubled. Even better, you have the opportunity to retrigger the free games.
Gamble Your Winnings
Let's face it: if you're into slot machines you aren't scared of taking risks. Thanks to a gamble button, you can take a big risk that often pays off.
Here's how it works: after a winning spin, you can either keep the payout or hit the gamble button. From there, you have two options:
Choose the right color of the hidden playing card and your payout is doubled.
Choose the right suit and your payout is quadrupled.
There's no way of knowing what will happen, but this feature adds a bit more excitement to the game. The more you play the easier it becomes to devise a strategy in regards to when you will and won't hit the gamble button.
Why this Theme?
There are many slot machines based on the Maya civilization, with many agreeing that this version from Aristocrat is the cream of the crop.
The theme itself made it possible for the company to include fabulous graphics and audio that excite and engage all types of players.
You don't need to be familiar with the Maya civilization to play this game, but why not take a few minutes to learn more? Here are some interesting facts:
The writing system of the Mayans, known as Mayan hieroglyphs, has been studied for many years.
Mayan cities were often made up of temples, palaces, and a variety of structures designed for astronomical observation.
The Maya calendar was quite advanced, accurately taking into consideration eclipses, solar and lunar cycles, and planet movement.
With that last point in mind, it's easy to see how Aristocrat came up with the name for this slot game.
Conclusion
Beginners will enjoy this game for its theme, free spin feature, and engaging graphics.
High rollers gravitate towards it because of the large maximum wager and ability to potentially multiply each and every win.
Regardless of your experience level, we suggest you use this information to play a Sun and Moon slot machine in the near future.