There is only one thing more beautiful than watching the sun set: winning a big slot machine jackpot!
With Sunset King slots, you get the best of the both worlds. While the African theme (complete with a sunset) is one of the best that Aristocrat has ever developed, you'll also enjoy the fact that there are many ways to win, plenty of large payouts, and numerous bonus features that add to the thrill of spinning the reels.
Remember these Basics
Playing a Sunset King slot machine begins with understanding the basics.
First up is the fact that the game features five reels, which is similar to many others on the casino floor. However, this is where things take a turn: there is no set number of paylines. Instead, players are given the opportunity to win in one of 1,024 different ways.
This is the same setup as other Aristocrat video slots, including favorites such as the Stack of Gold game.
It may take some getting used to, but over time you'll fall in love with the flexibility of playing without paylines.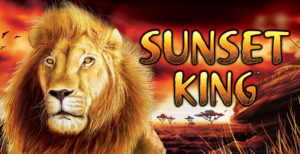 One thing worth noting is that the graphics and audio are not as advanced as some of the most modern video slot machines. Rather than using 3D images, Sunset King slots is a bit "old school" with its 2D technology.
While this may be a bit disappointing to some, the features of the game more than make up for it. In other words, don't avoid playing just because the graphics aren't up to par. This is a minor detail when searching for a game that can provide a good time with the potential for enormous payouts
Reel symbols include the following:
Nine
10
Jack
Queen
King
Ace
Hyena
Giraffe
Zebra
Hippo
Lion
The playing card values don't payout the most money, but they're good enough for small wins that keep you moving forward.
For example, five of the same playing card symbol on adjacent reels is good for a payout of 100x your initial wager.
If you're hoping for the biggest wins, you'll want to keep your eyes open for the reels containing African animals. Consider the following:
Three hyena or giraffe symbols on adjacent reels pays 20x your initial bet.
Three zebra, hippo, or lion symbols on adjacent reels pays 50x your initial bet.
Five lion symbols on adjacent reels pays 350x your initial bet.
While we're on the topic of reel symbols, a green paw depicts the scatter symbol. If you receive three or more of these in any reel position, it's good for a multiplier of 2x or more.
Furthermore, the scatter symbol is responsible for leading players into the free spin game:
Three scatter symbols award 8 free spins.
Four scatter symbols award 15 free spins.
Five scatter symbols award 20 free spins.
While the reels spin for free, a wild symbol is used to multiply your payouts by 2x or 3x. It may not be the biggest multiplier, but it's plenty enough to add to the excitement.
A Second Chance
Something special happens if you land a scatter symbol on the fifth reel combined with any other. This is when the Second Chance feature is activated.
At this point, three cards will appear on your screen. While you can't see the face, you know that one includes a scatter symbol. Find this one and you're immediately awarded bonus spins. How cool is that?
A True Player Favorite
Have you ever come across a slot machine that's so popular that it's difficult to even find a seat?
This is something that happens often with Sunset King slot machines. It's grown into a player favorite for many reasons, with players chasing this game all over casinos in Las Vegas, Atlantic City, and other gaming destinations.
Note: here's an informative video that shows what this machine looks like, how to play, and what the special features have to offer.
Our Sunset King Slot Machine Review
We know that every player is unique. We also know that every player has his or her own way of choosing a slot machine game. For this reason, we do our best to provide high quality, comprehensive information that is easy to understand. And that's what you'll see above.
In this Sunset King review, we discussed many features of the game. From the reels to the absence of paylines, from payouts to free spins, there's a lot to take in.
We'll leave you with this: if you enjoy Aristocrat games, such as Buffalo slots, you're likely to find that this one suits most (or all) your wants and needs.