Realtime Gaming (RTG) never seems to slow down in regards to the release of new slot machine games. During 2016, in particular, the company was able to push many new offerings to the public. Sweet 16 was one such game, with it attracting a large audience from day one.
Although it was released during the winter season, it has nothing to do with snow, ice, or the holidays (unlike Snowmania). Instead, it's all about that big day in a boy or girl's life when he or she reaches the age of 16.
On the surface, thanks to the theme and color scheme, it's easy to believe that Sweet 16 slots would be geared toward younger players. However, this isn't the case. In fact, it's been able to attract a variety of bettors from many parts of the world, including parents who are familiar with just how important the 16th birthday is to a child.
When you combine the unique theme with 243 ways to win, there's enough to make players look twice. Then, once you begin to spin the reels, everything takes shape. It's at that point that you can decide if this game has everything you're looking for.
The Configuration
We've talked enough about the theme of the Sweet 16 slot machine. Now, we want to get into the finer details of the layout, how you play, and of course, how you can turn yourself into a winner.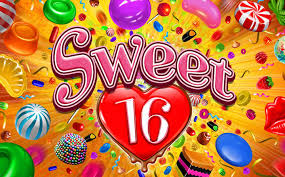 Above, we mentioned that there are 243 ways to win. This is a far cry from traditional slot games that don't offer nearly as many opportunities. Adding to this, the game is powered by a 5×3 reel configuration, something that RTG uses in many of its most popular machines.
You don't have to select the number of paylines, meaning that your only decision is how much you'll bet on each spin. You can start as low as $.25, with the maximum reaching $6.25. Of course, you have a few denominations in between, allowing most players to find their sweet spot.
Sticking with the "sweet" theme, reel symbols include things such as: chocolate, peppermints, and jelly beans.
The Free Sweet 16 Online Slot Machine
Even though RTG did an excellent job making this game affordable for most players, there will always be those who would rather play for free. Fortunately, you're covered.
Most casinos that offer the real money variation also provide the opportunity to spin the reels for free. This could suit your style if you:
Don't have money to risk.
Want to learn more about the game before depositing real money.
Aren't permitted to play real money slots in your country.
Along with a free version of Sweet 16, don't forget that you can also play via your mobile devices. From a smartphone to a tablet, if you want to bet while you're on the go, you'll be glad to know that RTG made this machine mobile friendly.
It's One Big Party
With a name like Sweet 16, you can only imagine what it will feel like to play. In short, it's one big party from beginning to end.
Here are a few of the top features:
All winning symbols are morphed after a pay is awarded.
New symbols take over the morphed positions, often leading to an additional win.
A prize multiplier will increase during successive wins based off the original, reaching as high as 10x.
Three or more scatter symbols trigger the Sweet 16 bonus feature.
The bonus game itself is extra exciting, as this gives you the ability to spin the reels for free. Plus, there is a re-trigger feature in place, meaning that you can stick around this feature for an extended period of time.
A Blast from the Past
Depending on your age, you may find it difficult to remember your 16th birthday. Of course, there are sure to be many people who can recall the exact details of their big day.
Regardless of what happened many years ago, this game provides the opportunity to have a top notch online experience right now.
Although the Sweet 16 video slot machine is one of the newest RTG offerings, it could provide a few additional features to keep players engaged.
For example, we would have liked to see a progressive jackpot added to the 243 ways to win. Maybe we're being greedy (like many kids on their birthday), but this would have been an excellent addition.
Even with some complaints, there's enough about the game to keep you involved. We particularly enjoy:
The ability to play for free and with real money.
Mobile friendly design.
The free spin bonus game.
Morphing feature.
Do you remember the Ringo Starr song "You're 16 (You're Beautiful & You're Mine)." Well, every time we sit down to play this slot machine it pops into our head.
From where we sit, this game is definitely beautiful (in most ways)!