What type of company would develop a slot machine game with the name Sweet Skulls? Well, you don't have to look any further than Aristocrat.
Despite the silly and somewhat confusing name, there's nothing complex about this machine. Sit down, spin the reels, and hope that a winning combination makes its way onto the screen.
One of the top challenges facing slot machine manufacturers is a struggle to remain creative. How will these companies continue to push out fresh games that attract a large number of players? This has yet to be a problem for Aristocrat, thanks to its ability to think outside the box.
With this game, players are greeted by everything from New Orleans charm to candy to black magic.
To go along with one of the most creative themes the casino industry has ever seen, there are plenty of other reasons to play. The bonus rounds are robust, the jackpots are meaningful, and base gameplay never fails to disappoint.
Note: Sweet Skulls is similar in many ways to Sky Rider slots.
Let the Good Times Roll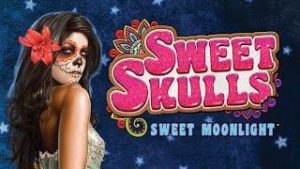 The only bad thing about playing a Sweet Skulls slot machine is the lack of cohesion in regards to the reel symbols. Even so, this isn't something that should stop you from playing. After a few spins, you'll have a better understanding of what you'll come across in the future and how to form winning combos.
From skulls to hearts, from flowers to beautiful women, you never know what you'll see when the reels stop spinning.
Upon sitting down, you're prompted to choose between two unique game modes. Once you do this, it's your job to select the number of paylines to play.
Tip: you don't have to wager the maximum amount to win one of the three high paying jackpots, but it definitely improves your odds of success.
With one game mode, there are 40 paylines with a maximum bet of $2 per payline. With the other, there are 80 paylines with a max bet of $4 per payline.
Free Spins Available
With enough scatter symbols on the reels, you can win anywhere from 9 to 36 free spins. If you're seeking big wins, it's the free spin bonus round where you'll have the best chance of success. If you don't have any luck here, you'll have to cross your fingers that you win one of the three jackpots during base gameplay.
Reasons to Play a Sweet Skulls Slot Game
Like most Aristocrat slot machines, you don't need any particular reason to play. You know that the experience will excite and the payouts will be above average.
However, there are some reasons to give Sweet Skulls a try:
You don't need to wager big money to win a nice sum. For example, this video shows a person betting $.45 and winning $108.73. It's not the biggest payout, but it's enough to get most players excited.
Availability at most major casinos throughout the United States, as well as other parts of the world. For instance, you should be able to find several of these machines at large establishments, such as The Venetian Las Vegas.
A creative theme that is never overshadowed. It may not make sense at times, but it's just crazy enough to keep you engaged for a long period.
Players have the option to play Sweet Skulls online. That said, it's only available for real money play – there's no free option at this time.
We Love the Theme
Sweet Skulls is one of those games you will either love or hate. If you're okay with the idea of a wild theme, you'll immediately enjoy the experience. Conversely, if you like games that are more uniformed, you may want to try your luck at something like Red Baron.
In an industry where many machines have the same look and feel, the SlotsJack team loves to see creativity. And while there are many games that suit this mold, none have taken things as far as Sweet Skulls slots!