Some slot machine themes seem to garner more attention than others. This can definitely be said in regards to dinosaurs, especially when you examine Realtime Gaming's large library of games.
T-Rex slots, along with the popular Megasaur game, are two great examples of dinosaur inspired machines that attract bettors from all walks of life.
An Exciting Approach
There's nothing worse than getting excited about an online slot game, just to find that it's not exactly what you were hoping for. While some people seem to have this trouble with this machine, we're not among them.
Sure, the theme has been done before. And yes, the features aren't nearly as advanced as they could be. Even so, it's hard to fault RTG for any of the decisions the company made.
With 5-reels and 25 adjustable paylines, players have a variety of options for getting started.
You can opt to play a single payline for a single penny. You can also opt to place a wager of $.25 on all 25 paylines, which pushes your total to $6.25.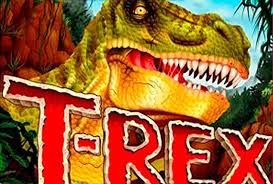 We don't have much of a preference in regards to adjustable paylines, but we do agree that it provides more flexibility. In this case, you can approach this is a penny slot machine or one that requires much more money in order to spin the reels.
A Free Peak
The free T-Rex online slot machine is also a popular choice, as it doesn't require you to make any wagers with your hard earned cash.
You can switch from the free to real money version (and back again) whenever you see fit. Some players, including those who are more interested in a good time, never consider anything but the free version.
Tip: money aside, T-Rex is also a mobile friendly game. Those who do most their computing on an iPad, iPhone, or similar device will find this to be a big benefit.
The Thrill of the Game
You may never feel as if you're chasing a Tyrannosaurus rex through the wilderness, but there are still plenty of features that provide non-stop action.
It all starts with the reel symbols, with all these closely associated with the dinosaur theme. The only exception is the generic playing card values, ranging from nine through ace.
Some of the unique symbols include: volcano, dinosaur egg, a plant, and of course, plenty of dinosaur species.
Points you need to be aware of include:
The T-Rex symbol is the wild and it has the power to replace all others (but not the scattered egg symbol).
A win that uses the wild symbol will automatically double in payout.
The egg scatter symbol can award a multiplier of up to 200x.
The scatter symbol is also your ticket to the free spin bonus game. With three or more of these, you're asked to choose from one of several eggs on the screen. From there, you're shown how many free spins – up to 10 – you'll receive.
The T-Rex Slot Machine Progressive
If you're not making up enough ground during base gameplay and the bonus feature, you can always cross your fingers for a progressive jackpot.
It doesn't matter how much you initially bet, how much you win, or how much you lose, it's always awarded at random after any spin.
In our experience, the jackpot is typically around $1,500 to $2,000 (although we've seen it go much higher).
A Big Online Game
Just the same as the T-Rex that roamed the earth many years ago, everything about this game is big. Some people may argue that the feature list could be longer, but there's more than enough to make it a solid choice.
At SlotsJack, we like the use of adjustable paylines and the small starting wager. Along with this, we're suckers for mobile friendly online slots with a progressive jackpot. With all that in mind, you can see why we consider this one of the top dinosaur inspired casino games in today's world.