The Ted slot machine was one of the most anticipated casino games of 2016. Based on one of the funniest and highest rated comedy films of all time, it was no surprise to most when Aristocrat announced its intentions.
Much the same as other movie inspired slots, Ted has a built-in audience of individuals who enjoyed the on screen antics of John Bennett (played by Mark Wahlberg) and his teddy bear.
It Starts with the Theme
Aristocrat never misses an opportunity to do something special, and this release proves that to be true.
The theme is everything you would expect, with each and every detail related to the movie in some way.
The animation and graphics are second to none, allowing players to feel like they are inside the game. Adding to this, the sound effects keep you engaged as the reels spin and you hope for a big payout.
As noted by Aristocrat, the entire game is an interactive experience that comes complete with all the characters, famous quotes from the movie, big progressive jackpots, and the Wonder Wheels feature.
Even though it took the company four years to push the game to casino floors, once it arrived players came flocking in large numbers.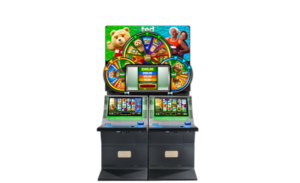 Much the same as the film, Ted is the center of attention. The cute yet crude bear interacts with players on a regular basis, typically every 13 spins or so. He is responsible for awarding bonus symbols, wild reels, multipliers, and of course, any conventional wins.
While it's easy to get caught up in the action, we don't want you to overlook an important detail: the setup of the machine itself.
The game is powered by three mechanical wheels, one of which is 34 inches and the other two 24 inches.
Ted Slot Machine Bonus Features
Even during base gameplay, the action never stops. Ted is always doing something funny, and as a player, you're always in position to win.
However, the addition of nine main bonus game features is what sets the game apart from the competition. Let's examine the details of several of these:
Thunder Buddies Wheel Feature. With this, you are given the chance to spin the large wheel one time. While this doesn't do much in terms of winnings, it will lead you towards one of the nine bonus features.
Pick a Fight Bonus. Ted is always looking for a fight, right? Well, that's what this bonus is all about. You're prompted to choose from a variety of facedown tiles to determine your win and multiplier.
Ted's Party Spins Bonus. With this, you win eight free spins on a 4×5 reel setup. As you collect shot glasses on the first and fifth reel, you'll find yourself winning more free games and multipliers.
Ted Wheel Bonus. Considered by many to be the most exciting bonus feature, the action takes place on one of the smaller wheels. Your goal is simple: to collect as many Ted symbols as possible, as these lead to credit awards and big multipliers.
While these bonuses give you a taste of what the game offers, there's one last thing we have to talk about: the progressive jackpots.
The Grand Jackpot starts at $250,000, meaning that a win is sure to change your life forever. You'll need to make a wager of 300 credits or more to qualify. From there, you have to collect five Ted Jackpot symbols on reels one through five to win.
Note: you may not be lucky enough to win the Grand Jackpot, but the SSP Static Jackpot is just as exciting. It starts at $10,000, but is easier to win.
The Movie
Why would Aristocrat base an entire slot machine game on this movie? Well, if you've ever seen the film, you know the answer.
Here are some interesting facts to keep in mind:
The budget for Ted was $51 million, but it grossed $549.4 million at the box office.
Ted was filmed in many locations, primarily in Vancouver, Canada.
It was nominated for and won many awards, including a People's Choice Award for Favorite Comedy Movie.
As you can see, the popularity alone was reason enough for Aristocrat to get involved with this theme.
Our Ted Slot Game Review
We were huge fans of Ted when it was released in theaters in 2012, and this has never changed over the years.
Not everyone finds the movie appealing, but most realize that the slot machine has plenty to offer.
If you want to play, you'll need to find the machine in a land based casino. Due to its popularity, you won't have much trouble doing so. It's available in large Atlantic City casinos, such as the Borgata, as well as smaller establishments, such as The Meadows.
At this time, Ted is not available to online players. Also, despite the sequel released in 2015, Aristocrat has not announced any plans for a follow up game.
The theme is unique, the bonus features are one of a kind, and the progressive jackpots are big. These are the types of things that have allowed Ted slots to storm to the front of the industry, attracting players in locations around the world.