A Temple of the Tiger slot machine may sound scary, dangerous, and intimidating, but once you begin to play you'll realize that it's all about having fun.
As one of the top Aristocrat games of all time, the company has shared a variety of information on the machine. On this page, you'll find a basic breakdown of the game, complete with links to two official promo videos.
If that's not enough to satisfy your cravings, visit this page to see how it fits in at Casino Châtel-Guyon.
Plenty to Enjoy
Playing Temple of the Tiger slots is not entirely unique, as it shares some of the same basic features with other Aristocrat games.
That being said, you can expect the theme, as well as several exclusive features, to provide you with an unforgettable experience.
For example, both versions of the game, Tiger Queen and Tiger Prince, are part of the company's Max Stacks category. With this, you have access to stacked symbols, a feature that adds excitement and gives you the opportunity to win more money.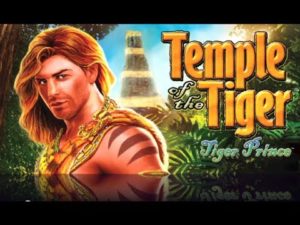 As part of the E*SERIES, you should also expect nothing but the best in regards to animation, graphics, and sound effects.
Note: Sky Rider is another popular game in this series, providing many of the same benefits as Temple of the Tiger.
These Extras Will Make Your Day
With a 5-reel, 40-payline configuration, it's easy to understand the basics of getting started.
However, it won't be long before you're learning more about the many extras that add to the experience.
First off, keep your eyes peeled for the Temple of the Tiger logo. Acting as the wild, this is the one symbol that has the chance to turn you into a big winner.
The temple symbol is also important, as it acts as the scatter. It may not do as much as the wild in terms of increasing your payout, but that doesn't mean it should be ignored. This is the symbol that activates the free spin game, so it's one that you hope to come across regularly.
Bonus Action
As discussed above, there are some bonus features that allow the Temple of the Tiger slot machine to attract a wide variety of players.
It's not the most advanced in regards to the number of bonuses (such as the case with Ted), but those that are available are more than enough to keep you busy.
Let's start by discussing the Max Stacks feature. As an expanding feature, reel symbols can appear stacked at any time. If this happens, you'll notice two things:
Your winnings are bigger than expected.
The graphics take on a life of their own.
Note: this feature is triggered during base gameplay.
The free spin feature, known as a staple in many Aristocrat games, is also available. Three or more scatter symbols takes you to this round where your money is not needed.
As the free spin round begins, the reels turn into a brick wall that eventually falls apart. It's then that you're presented five options:
8 free games with the wild symbol stacked.
24 free games with the Tiger Queen symbol stacked.
30 free games with the tiger symbol stacked.
36 free games with the tiger symbol stacked.
A mystery symbol in which you don't know how many free spins you'll be awarded.
If you play long enough, you'll eventually have the chance to experiment with all five of these options. But always remember this: you can't go wrong with any of them.
Will You Play Temple of the Tiger?
You should now understand a few things about the Temple of the Tiger slot machine:
Aristocrat had big hopes for the game upon its release, and it's lived up to the hype.
It belongs to the E*SERIES, meaning that you'll never be short on high level features.
The free spin bonus round goes above and beyond, giving you multiple options for enjoying the experience.
We're not going to tell you that Temple of the Tiger is the perfect game, but it definitely has a lot going for it.