When you think about the top gaming cities in the United States, Pittsburgh, Pennsylvania probably doesn't enter your mind. However, once you learn more about The Meadows Racetrack and Casino, everything may change for you.
This establishment, located approximately 25 miles south of Pittsburgh, has everything a slot player could want.
Starting with the basics, it's important to note that the racetrack opened in 1963, well before the casino came to light.
However, in late 2006, construction on the state of the art casino began. Approximately three years later, on April 15, 2009, the casino opened to the public.
The Facility
From the outside, nobody will ever confuse The Meadows Casino for one that you would find in Las Vegas or Atlantic City. However, looks can be deceiving.
Once you make your way inside, you'll fall in love with the 350,000 square feet of casino floor.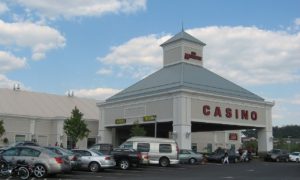 Along with this, visitors have access to multiple restaurants, a food court, bowling, and much more.
Throughout the year, the facility also hosts many of the top names in entertainment, giving people another reason to stop by.
For those who want to stay the night, maybe because you're visiting from out of town, the Hyatt Place Pittsburgh South provides direct access to the casino. With 155 guestrooms, luxury amenities, and a minute long walk to the gaming floor, this is the best hotel in the area to rest your head.
The Slots Experience at The Meadows Casino
Although there are plenty of table games to keep you busy (more on this later), The Meadows is best known for its slot machine selection.
Did you know that there are more than 3,000 machines to choose from, many of which are old time favorites and new releases?
If that isn't enough to get you excited, here are some additional details:
All slot machines feature ticket in/ticket out technology, allowing you to easily move from one game to the next.
One of the largest selections of high limit slots in the state, with wagers as high as $375 per spin.
A variety of game types, ranging from progressive jackpot machines to traditional three reel slots.
Along with the above, there's one thing in particular we love about The Meadows Casino slots: the "New Game Zone."
This is exactly what it sounds like. It's the only casino in the region with an area dedicated solely to the newest releases, which includes favorites like Game of Thrones.
So, if you're the type of player who likes to focus on the latest and greatest offerings, you won't have any trouble finding what you're looking for here.
Note: this page provides more information on the casino's slot machines and video poker games.
How Much Can You Win?
As you know, there's no guarantee when playing slots. You do your best to choose the right game, and then cross your fingers in hopes of winning a big jackpot.
If you're wondering how much success others have had at this casino, look no further than its Jackpot Winners page. Some of the biggest recent wins include:
$343,676
$77,617
$75,000
$57,618
$49,290
There's no way of knowing if you'll have this much luck, but nothing changes the fact that others have won big before you. This may give you the confidence you need to play.
Table Games
At SlotsJack, we consider slot machines to be the "cream of the casino crop." Even so, there's nothing wrong with trying your hand at a few table games. These can be every bit as much fun, especially if you get on a hot streak.
The Meadows has you covered, as it offers the following table games:
Blackjack
Roulette
Texas Hold 'em
Three Card Poker
Craps
Baccarat
High Limit Room
If you want to take your experience to the next level, it may be time to step up to the high limit table games.
The high limit room offers access to a variety of games in a luxurious setting. There are 12 games in the room, including blackjack, craps, midi baccarat, and roulette. Additional features include:
Limits as high as $15,000
Three table private salon
VIP lounge
Table service
If you want more action, more privacy, and more luxury, all with the chance of taking home bigger winnings, you've come to the right place.
The Meadows Players Club
Do you plan on spending a good amount of time at this casino? If so, you'll want to become part of the exclusive players club.
There are many reasons to sign up, including access to Slot FreePlay. As long as you use your card while playing slot machines and other games, you'll continue to rack up points.
There are five levels of membership:
Club
Silver
Gold
Platinum
Owners
Over time, as you continue to play, don't be surprised if you find yourself moving towards the top tiers, which provide the most benefits.
Promotions
If you're seeking a casino with top notch promotions, The Meadows never falls far behind the competition.
It doesn't matter what types of games you like to play, it doesn't matter what type of experience you want to have, there is likely to be a promotion that fits your style.
Some of the best past promotions include:
Lucky 21 Blackjack Tournament
Ford Truck Giveaway
$25,000 Jackpot Frenzy Slot FreePlay Drawing
The promotions are always changing, so make sure you check on these upon arriving at the casino.
Online Gaming
Before you partake in any type of online gaming, it's important to become familiar with the laws and regulations in your state.
The Meadows provides a link to the CanPlayZone Casino, an online establishment that offers access to free premium online slots.
For those times when you don't want to visit a casino, for those times when you'd rather spin the reels for free, this is a good place to get your fill.
Our Review of The Meadows Casino
In our opinion, The Meadows Racetrack and Casino is one of the hidden gems of the industry.
While it may be located in Pittsburgh, Pennsylvania, an area not known for its casino activity, it's well worth visiting if you live nearby or are planning a gambling vacation.
This review should provide you with all the information you need to visit and play.
Finally, we'll leave you with our three favorite things about the casino:
The large selection of slot machines, ranging from traditional favorites to advanced new releases.
The New Game Zone.
Access to high limit slots.