The Sopranos is one of the most highly rated American drama series of all time. Airing from January 10, 1999 to June 10, 2007, the show was successful in attracting a large audience of followers from locations around the world.
Even after the final episode, the series continued to pick up steam thanks to its DVD release, follow up books, and video game (The Sopranos: Road to Respect).
With this popularity in mind, Aristocrat decided to develop The Sopranos slot machine game. Although its no longer one of the newest games on the casino floor, it remains one of the most attractive.
Play with the Intent to Win
When you play Sopranos slots, you have the intention on winning big every time. Who knows, maybe a few big payouts could put you on track to having as much money as Tony Soprano himself.
The game is powered by 5-reels and 25-paylines, a setup that is typical for many Aristocrat slot machines.
With a minimum wager of a quarter, most players have enough money in their budget to sit down and play. Of course, those who want to bet more can push their wager all the way to $2,000 per spin.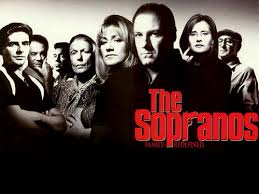 Through this approach, the machine does a great job attracting both low and high rollers.
Note: an auto-play feature is available, which allows you to automatically spin the reels so you don't have to do so manually after each game ends.
Theme and Features
When it comes to slot machines based on TV shows, Aristocrat always does a good job bringing the two together. A prime example of this is the company's recent success with Big Bang Theory slots.
The Sopranos is no different, as the theme of the show fits in nicely with the game itself. For example, the reel symbols include a variety of characters from the series, including but not limited to Bobby, Artie, and Paulie.
Taking this one step further, the graphics, video, and sound effects are second to none. In fact, it's easy to believe that you're watching an episode of the show when you're actually spinning the reels.
Tip: there's always money to be won during base gameplay, but there is one prize – the progressive – that stands out from the rest. If you're lucky enough to win this, tens of thousands of dollars will be coming your way.
Bonus Action
Aristocrat never disappoints in regards to its bonus offerings, and you get more of the same with The Sopranos slots.
As always, the use of a scatter and wild symbol put you in position to multiply your winnings and/or enter a free spin round.
One of our favorite features is the Raid bonus, as this interactive bonus helps establish a better connection with the game.
Upon activating the bonus, you're presented with four envelopes. From there, you're staffed with the responsibility of hiding these in four different spots. After that, two of the envelopes are confiscated by police, with the other two left for you. When the remaining envelopes are opened, you'll get a clear view of how much you've won.
Other bonus games worth mentioning include the Crime Family feature and Stolen Goods feature.
In an overall sense, it doesn't really matter which bonus game you enter. Regardless, you're sure to have an enjoyable time as you add more credits to your account.
A Show for the Ages
Have you ever watched any of the 86 episodes of The Sopranos? If not, you're missing out on an engaging experience that will keep you wanting more.
There are many reasons for the popularity of the series, including the mob theme. Of course, the actors and actresses had a lot to do with its success. Some of the show's biggest stars included:
James Gandolfini
Edie Falco
Jamie-Lynn Sigler
Lorraine Bracco
Steven Van Zandt
Year after year, the show was nominated for and won a variety of awards. For example, some of its Primetime Emmy Awards wins include:
Outstanding Lead Actress in a Drama series (1999)
Outstanding Writing for a Drama Series (1999)
Outstanding Lead Actor in a Drama Series (2000)
Outstanding Lead Actress in a Drama Series (2001)
Outstanding Drama Series (2007)
The Sopranos was filmed in New Jersey, but this didn't stop it from becoming a big hit in other parts of the world.
Despite the fact that its run ended in 2007, it's still considered a groundbreaking series that many viewers rank among the best ever.
Our Sopranos Slot Machine Review
At this point, you have a clear idea of how to play the game, which bonus features are best, and why Aristocrat decided on this theme.
It's obvious to most that the slot machine game is every bit as popular as the show itself. In our opinion, there are several reasons for this:
A theme that attracts fans of the show, as well as those who simply want to play an enjoyable and fast paced game.
A low minimum bet and high maximum bet, allowing it to appeal to the masses.
The implementation of several bonus features, including some that are interactive.
Reading this Sopranos slot machine review will help you understand the finer details, but it's not until you sit down that you truly see what it has to offer.
Aristocrat is well known for its ability to convert TV shows into slot games, with many players arguing that this is its best offering yet.