Playing The Third Prince slot machine by Aristocrat may sound boring, due to the "same old" Far East theme, however, it offers a unique playing experience that is sure to captivate your mind.
With its cartoon style, playful graphics, and high quality audio, you'll enjoy every second you spend in front of this game.
With all this in mind, you may have one big question: how does The Third Prince stack up to other games of a similar theme?
While it's hard to answer this question without playing, we're going to break down the good and bad in this review. From there, you'll better understand what the game is all about and whether or not you should give it a try.
More than an Interesting Theme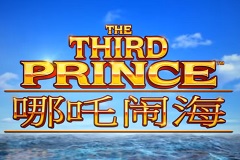 As you begin to play The Third Prince slots, it's hard to see past the theme. Of course, all of this will float to the back of your mind once you begin to spin the reels.
On the plus side, there is not an overabundance of reel symbols. This makes it easy to stay the course and know just what you need to do in order to win.
The 5×3 reel set isn't advanced, but that doesn't mean it's a negative. In fact, it lends well to players seeking a straightforward and simplistic experience.
Free Spins
It doesn't matter if you're playing The Third Prince slots online or at a land based casino, base gameplay never thrills (not often, at least). It's solid across the board, but it doesn't offer much in addition to the basics.
Fortunately, things begin to pick up when you find yourself immersed in the free spins feature. Of course, you can't have fun until you land yourself in this bonus game.
It takes four or more scatter symbols to reach the free spin bonus round. From there, every spin adds excitement as game characters are added above the reels. This may seem confusing at first, but it's all meant to give you a better chance of winning.
Will You Play The Third Prince Slots?
Players are often pulled in opposite directions when reviewing this game. On one side of things, they know that any Aristocrat game is probably worth checking out.
Conversely, the lack of bonus features and a complex free spin round is not always appealing.
If you're trying to decide what to do next, here are some reasons to give the game a try:
The theme, albeit similar to others, such as Choy Sun Doa, is 100 percent unique.
The free spin feature can be complicated, but once you settle in it's both exciting and potentially profitable.
The simple configuration makes it easy for players of all experience levels to get involved.
Maybe these reasons are enough for you to play. Or maybe they do nothing for you. Either way, you know that the option to play is always there.
An Online Experience
For those times when you can't visit a brick and mortar casino, you can opt to play The Third Prince slots online.
While there is no free game available at the present time, you can wager real money if it's legal to do so in your country.
The benefits of online gaming run deep, including the convenience as well as the ability to move from one game to the next without a crowd.
The SlotsJack Review
We know that you don't have the time and money to play every slot machine game. For this reason, you need to think carefully about what you do.
The Third Prince is not the most advanced or popular game, but it's available at casinos across the country. Furthermore, you may also have the ability to play via the internet.
With this review, we hope you now have a better idea of what you get when you sit down to spin the reels. A The Third Prince slot machine is exactly what some are looking for, but nothing that others are interested in. The only thing we can say is this: it takes a firsthand experience to really know what this game has to offer!