When you first see the name of this slot machine – The Three Stooges Brideless Groom – you may be asking yourself one question: what the heck was Realtime Gaming (RTG) thinking when they developed this game?
If you know anything about The Three Stooges comedy team, you won't have to wonder what this game brings to the online casino industry.
First things first, let's talk about the name. The slot is based on the 1947 short film released by Columbia Pictures. Sharing the same name, Moe, Larry, and Shemp set out on an adventure to find Shemp a wife within 48 hours. Doing so means one thing: he'll collect $500,000 left behind by his rich uncle.
Now, let's get back to the slot machine. Sticking with the theme that made this film such a hit, you should expect two things as you spin the reels:
Plenty of laughs
The opportunity to win a lot of money (albeit not $500k)
Laugh Your Way to the Bank
With a 5×4 reel configuration and 33 paylines, The Three Stooges Brideless Groom slot machine is not laid out like you may expect. Even so, the way you play is similar in style to other RTG games.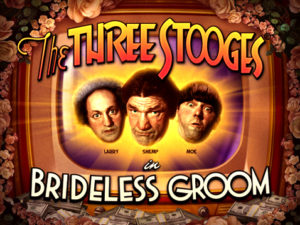 Your first decision is how many paylines you want to play. You can select anywhere from 1 to 33.
Your next choice is how much you'll wager. The smallest bet is a single penny, with the maximum reaching $8.25. This is a nice range of betting options, ensuring that players of all budget levels can get involved.
You can also play free Three Stooges Brideless Groom slots online. This variation doesn't require a wager, but instead allows you to spin the reels without depositing real money.
Note: this is also a popular mobile slot machine, with the ability for bettors to get involved with nothing more than a smartphone or tablet. iOS and Android users will find the interaction to be smooth and efficient.
Your Search for Cash
Just the same as the movie, the purpose of the game is to help Shemp get married. This is why most the reel symbols are associated with a wedding. This includes everything from a certificate of marriage to a cake to a bottle of champagne. Along with these, you'll regularly come across symbols of your favorite stooges.
Here are some of the ways you can win:
Five flower bouquet or champagne bottle symbols pay 133 coins.
Five marriage certificate symbols pay 333 coins.
Five symbols of the stooges on the same payline pays 3,333 coins.
If you're seeking bigger riches, you'll need to collect five wedding rings. Not only is this the scatter symbol, but it also triggers an instant multiplier of 333x your wager.
The Three Stooges symbol is wild. This can expand over the second, third, or fourth reel to trigger anywhere from one to three respins. Along with this, it can also expand over all three reels at once, which takes you to the Stooge Picks bonus.
A Laugh a Minute
The Three Stooges Brideless Groom video slot machine never leaves you disappointed. Even if you aren't winning as much as you want, it's hard to fight the smile on your face. These guys are as funny in the slot game as they were on the big screen so many years ago.
At SlotsJack, we've been fans of The Three Stooges for many years. Along with this, we're always looking for machines based on television shows and movies, such as Ted.
We love the theme. We love the unique configuration. And we definitely love the wild feature. The only thing we'd like to see is a progressive jackpot. By adding this, RTG could take the game to the next level.