Make no bones about it: the Tigress slot machine is not one of the most popular in the Aristocrat library of games.
Even so, as a video based game with a solid theme, you can expect a good time when you sit down to spin the reels.
In some ways, the theme is similar to Aristocrat's Temple of the Tiger slots, however, this game is not nearly as advanced in regards to its graphics, animation, and feature set.
The Jungle Awaits
As you continue to play the game, you'll realize that the Asian jungle theme is everywhere you look.
With a 5-reel, 50-payline configuration, you shouldn't expect anything out of the norm. This is a standard setup that is played just like most traditional slot machines.
Reel symbols are associated with the jungle, with some of the most colorful icons including the tigress, alligator, tropical bird, and a red panda.
We hate to say it, but you won't be blown away by the graphics and animation. This isn't necessarily a bad thing, as it has nothing to do with how often or how much you win, but it can take away from the experience (especially if you aren't having any luck).
Play and Win at Tigress Slots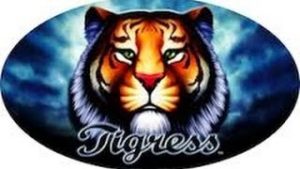 Despite its shortcomings, there are several reasons to play this game. It all starts with the 50 paylines, giving you the opportunity to experience a variety of symbols while forming winning combinations.
Before we discuss the many ways to win, remember this: if you land a Tigress symbol on the far left reel, you're awarded a multiplier of 2x. That's easy enough, right?
If you're lucky enough to collect two Tigress symbols, your multiplier doubles to 4x.
In addition to unique symbols with images of jungle animals, Aristocrat filled out the rest of the reels with playing card values.
Here are some of the many ways you can win:
Three of any playing card symbol awards 10x your wager.
Five of any playing card symbol awards 100x your wager.
Three Tigress symbols award 20x your wager.
Four Tigress symbols award 50x your wager.
Five Tigress symbols award 500x your wager.
Note: to win, all of the symbols need to be on the same payline.
These aren't the only winning combinations, but they are a few that you'll want to watch for. In particular, any combination of three or more Tigress symbols will payout big money.
Bonus Fun in the Jungle
Adding to steady action throughout base gameplay, Tigress slot machines feature a variety of bonuses.
For example, the green gem wild symbol can replace any other on a payline, giving you a better chance of forming a winning combo.
Note: the wild is only available on reels two, three, and four.
There is one exception in regards to the bonus, that being the full moon scatter symbol. Although the wild can't replace this symbol, the scatter is powerful enough on its own to put a smile on your face.
The scatter pays 2x your total wager if you collect these on reels one, two, and three.
Note: to win with the scatter, you don't have to align the symbols on the same payline.
Just like many Aristocrat games, three scatters is your path to the free spin bonus round. Good for seven free spins, there's no better feeling than playing with house money.
It's not easy to do, but collecting five Tigress icons on the same payline during a free spin will lead you to the jackpot of 2,000x your line bet. This is the biggest payout in the game.
What does this Review Tell You?
Now that you've read our Tigress slot machine review, it's time to make up your mind: will you play this game or will you pass?
We're the first to tell you that there's not much that makes this game special. We'll also tell you that it's a solid game from front to back. From the use of a wild and scatter symbol to the free spin bonus, there are things you will enjoy.
It's not the type of game that stands out on a casino floor, but it may be just what you're looking for. Of course, you'll never know for sure until you find a machine and spin the reels!