As a traditional game with a conventional setup, the Turtle Treasure slot machine appeals to a large number of players.
Although Aristocrat developed the game with the masses in mind, that doesn't mean it misses the mark in regards to exciting features, large payouts, and an engaging experience.
At first glance, the 5-reel, 25-payline setup may not get your juices flowing. But don't let this slow you down. There is plenty to like about this game, you simply need to spin the reels a few times in order to learn more.
Based on the sea turtle, one of the most interesting animals of the ocean, the theme itself is attractive and somewhat calming. When you combine this with the straightforward playing experience, you have a machine that is enjoyable in almost every way imaginable.
The Finer Details
As a video slot machine from Aristocrat, you can be rest assured that the graphics and sound effects will live up to your expectations. They're not as advanced as more modern offerings from the company, including Walking Dead slots, but at the same time you won't be disappointed.
Sticking with the ocean theme, reel symbols include: pearl rings, golden coin, clam, treasure chest and starfish.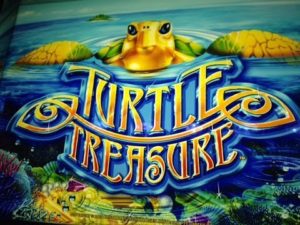 Along with these, Aristocrat uses playing card symbols to fill out the reels. These don't payout as much as the unique ocean themed symbols, but they do provide the opportunity to win a decent amount of money.
Speaking of winnings, the lowest payout of 5x your line bet is awarded for collecting three 10 symbols on the same payline.
However, as you make your way up the playing card symbol ladder, five ace symbols award a prize of 500x your line bet.
While that's a nice size payout, it gets even better when you put together wins with the unique set of symbols. Get this:
Five starfish payout 700x.
Five golden coins payout 800x.
Five pearl rings payout 900x.
Five turtles payout 1,000x.
You'll never confuse Turtle Treasure slots with those that are higher paying, such as machines with a progressive jackpot, but it's not on the "low side" either. These payouts are more than respectable when compared to others, even those in the Aristocrat lineup.
Another Reason to Play
At this point, it should be clear that Turtle Treasure is a solid game that appeals to the wants and needs of many players.
Even so, various bonus features give you even more reasons to play.
For example, the clam acts as the wild symbol, which can replace most (see below) others in an attempt to turn you into a winner. The only exception to this is the treasure chest symbol, but there's a reason why the wild can't replace it: it's designated as the scatter.
The scatter shows up on reels one through three, offering a multiplier of 4x when you collect the symbol in any position on all three reels.
But the fun doesn't stop there. The scatter symbol is also the one that takes you to the free spin game. With this, you're awarded 10 free spins that provide the opportunity for bigger than normal payouts.
The Decision to Play Turtle Treasure Slots
If you know anything about Aristocrat games, you realize that they're among the most popular on the casino floor. Along with this, online players are always seeking the opportunity to spin the reels, often searching casinos for free play games.
We understand you have thousands of options when it comes to slot machines. This makes the industry exciting, but it also makes it difficult to decide where you sit down.
If you want to play Turtle Treasure, you have the opportunity to do so online and at land based casinos.
It's worth noting again that it's not the most advanced game. You won't be blown away by over the top graphics and sound effects that make you shake, but it still has plenty of solid features across the board.
If you're presented with the opportunity to play, don't hesitate to spin the reels and see what happens. Sticking around long enough will probably lead you to the free spin bonus round, allowing you to see everything that the machine has to offer.