Have you ever come across a slot machine with a theme that doesn't exactly match the name? This is all too common in today's day and age. Fortunately, with Weird Wicked and Wild slots, this is never the case.
The game is definitely weird. It's definitely wicked. And of course, you can expect plenty of wild times when you play.
Despite the fact that this is a relatively new game by Aristocrat, many people overlook it as they walk the casino floor. Instead, they turn their attention to games with more name recognition, such as the official Sopranos machine.
Don't Miss the Boat
If you've continually passed by Weird Wicked and Wild slot machines in the past, it's time to change your approach in the future.
With a unique theme and standalone progressive, you won't arrive at this game wondering what the action will bring.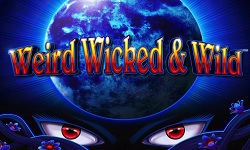 Base gameplay, complete with the ability to win a random progressive jackpot, will always keep you on the edge of your seat. When you add this to a free game feature and grand mystery prize, don't be surprised if you're "going wild" in no time at all.
Note: the free spin feature provides 10, 13, or 15 free games, as well as the ability to multiply your payouts by 1x, 2x, 3x, or even 10x.
A Few Basics of the Game
By now, you should better understand the theme of the game and what to expect during regular gameplay.
There are other things you need to know, including the following:
5×3 configuration, which is an Aristocrat favorite.
40 paylines.
Maximum wager of $6.
Let us take this time to say that the Weird Wicked and Wild slot game was developed for players of all budget levels. It doesn't matter if you're playing on a shoestring budget or consider yourself a high roller, there's something here for everyone.
It Gets Better
Yes, there is a progressive jackpot. And yes, you can win big payouts without wagering big money. As exciting as that may be, Aristocrat didn't stop there. Here are some other details to consider:
Up to 50 stacked symbols per reel.
The ability to win as many as 15 free games (see above).
Opportunity to retrigger as many as five free spins.
These are simple features that provide more action and bigger payouts. Unfortunately, it's hard to explain just how powerful they are. Instead, you really need to spin the reels for yourself to see what they offer.
WWW Slot Machine Review
Known by some as WWW, as opposed to Weird Wicked and Wild, Aristocrat has had a big winner on its hands since releasing the game in land based casinos throughout the world.
In our opinion, the company did three things right with this machine:
The use of a unique theme, ensuring that players never feel like they've "been there, done that."
A variety of advanced features, such as stacked symbols.
A free spin round that is unrivaled by most games.
There are many videos of people not only playing this game, but also winning quite a bit of money. If you want to learn more, watch this video and this video. Both of them are sure to get your blood flowing.
It's Worth a Try
We aren't in the business of telling players which slot machines are right for them. Instead, we do our best to provide honest reviews that allow you to make an informed and confident decision.
Weird Wicked and Wild slots is not the perfect game, but it has enough going for it that you probably won't be disappointed with your experience.
You can find it in most of the bigger casinos in Las Vegas and Atlantic City, as well as some of the smaller establishments in lesser known regions throughout the United States.
With the help of this review, you should have all the knowledge you need to play. Once you spin the reels, don't hesitate to contact us to share your experience. We'd love to hear how things work out for you!