Nobody wants to have a wicked experience when playing a slot machine, but in some cases this is actually a good thing. Just ask Aristocrat about its Wicked Winnings slot game.
Although the original version of the machine was released many years ago, it still has plenty to offer players who enjoy a traditional experience combined with a straightforward approach to winning.
Due to the early success of the first Wicked Winnings slot machine, the company decided to release additional versions as the years went by. While each one offers something unique, they remain similar in many ways (more on this later in the review).
Tip: if you have the time and if you can find all variations of the game in the same casino, you owe it to yourself to experiment with each one. This is the only true way to determine which version suits you best.
The Theme
As suggested by the name, Wicked Winnings is a little bit good and plenty of bad. Despite the somewhat evil theme, there are plenty of ways to win. Even better, thanks to the overall approach, you're likely to have an enjoyable time even if you come up empty.
Learn the Symbols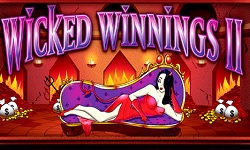 Playing along with the sinister theme, reel symbols include but are not limited to skulls, flames, flying ravens, and jewels.
Even if you're a bit intimidated by some of the symbols (remember, it's all in good fun), each one has the opportunity to turn you into a winner.
As you get up and running, it'll take a few spins to familiarize yourself with all of the reel symbols.
All you need to concern yourself with is collecting as many like symbols as possible from left to right. If you receive three or more of the same symbol, you're a winner. It's as easy as that.
Of course, just the same as all other games, some symbols provide more value than others. For example, three "lady in red" symbols will take you to the free spin bonus round. With seven of these in hand, you can spin the reels without touching your own money.
Note: the free spin bonus does not have a retrigger feature in the original Wicked Winnings slot. However, if you play one of the later versions of the game, you have the potential to win more free spins as you go along.
Wicked Winnings II
Aristocrat considers this a player favorite, which is why it's part of the "Wonder 4" group of games.
Some of the other top titles in this group include Firelight, Buffalo, and Pompeii.
There are a few high level differences between the first and second version, including:
More advanced graphics, animation, and audio.
The use of the Wicked Winnings logo as the scatter.
Ability to download Wicked Winnings 2 on both smartphones and tablets.
Some people are big fans of the original game, but others would rather play the sequel if given the chance. The good thing is this: both of these provide an exciting and potentially profitable experience.
Wicked Winnings III
If you haven't had enough fun with the first two versions, it's time to step up to Wicked Winnings 3.
There is one primary difference between the three games. While the first two releases were setup with five reels, this one has a six reel configuration.
With a minimum wager amount of one cent and a minimum bet requirement of 200 credits, it hits the sweet spot for many players.
Note: Wicked Winnings III includes the Xtra Reel Power feature to help boost your odds of winning.
A Choice to be Made
Each version of the Wicked Winnings slot machine is special in its own way.
As a player, you'll have to make up your mind as to which game is right for you. Make your decision based on your personal preference, past experience, and budget.
This series continues to impress players in casinos throughout the world. The theme may not be the perfect fit for your style, but most agree that all three versions are among the best that Aristocrat has ever released.