Hell is a scary place, but Aristocrat has a way of making everything better.
When you play Wild Inferno slots, a video based game developed by this industry leading company, you'll find yourself wondering one thing: is the devil really that bad of a guy?
The more you play the more you'll realize that a good time and big wins may be waiting for you in the future.
Take a Trip Below the Surface
With a unique theme, based on all the most common characteristics of hell, it won't be long before things begin to heat up – but in a good way, of course.
It all starts with the background, with orange and red flames burning bright. In fact, some players find this so distracting at first that they forget to make their wager. Instead, they sit and stare, wondering what's to come.
Wild Inferno Slot Machine Details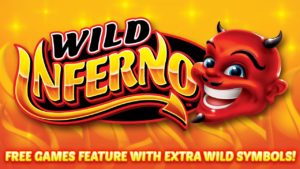 Despite the unique and somewhat distracting theme, there's nothing about this game that is difficult to understand. The way you play and win is simple, and all it takes is a few spins in order to settle in.
The 5-reel, 40-payline configuration is a player favorite, due to the ability to easily see what's happening as the reels spin.
Note: the 40-paylines are fixed, meaning that you have no option but to place a wager on all of them.
The amount of money you win depends on two important factors:
Your initial wager
The symbols that form the winning combination
If you want to win big at Wild Inferno video slots, here's a tip: use the max bet button to go "all in." There is no denying the risk, but this approach puts you in position to win the top payouts.
The Many Symbols
Just like many of today's most advanced slot machines, there are two paytables. The first one consists of winnings associated with playing cards. These reel symbols don't make for the largest payouts, but they do come about often.
On the other side, you'll find the paytable for the symbols that are unique to this game. These include the devil himself, pot of gold, dice, and a violin among others.
A Unique Bonus Game
Since base gameplay payouts are relatively low, you want to spend as much time as possible in the Wild Inferno bonus round.
The trident symbol acts as the scatter, and this is the one that will take you to the bonus game. Three or more of these on the reels will activate eight free games, all of which give you the opportunity to increase your winnings.
Tip: there are times when the bonus game will start without collecting three scatter symbols. Talk about a pleasant surprise!
As you make your way through the eight free games, you'll realize that there is now a wild symbol. While this isn't available during base gameplay, it makes an appearance in the bonus round. With the ability to replace all other reel symbols, one or more of these will immediately increase your odds of winning.
Miscellaneous Information
At this point, you probably have enough information to confidently sit down and play Wild Inferno slots. But why stop there?
We have a few more points of advice, all of which can help you better understand and enjoy your experience.
Aristocrat gives its operators the ability to customize this slot machine however they best see fit. For this reason, you may find that the paylines and denomination differ from one casino to the next.
Many players have had great success winning big money in the free bonus game round. This video shows just how much you can win if you get on a hot streak.
If you're a big fan of 5-reel, 40-payline slot machines, there are other games you should try out. For instance, Wolf Run slots by IGT is one of the best.
What Do You Think?
It's not likely that you think about hell very often. After all, this isn't pleasant by any stretch of the imagination. This is particularly true when you're having a good time at a casino.
Even so, you may want to try your hand at Wild Inferno slots. The creative theme is much more friendly than it sounds. Combine this with one of the best bonus rounds by Aristocrat, and you'll see why some players spend many hours spinning the reels.
Final tip: if you don't have access to this game at a land based casino, you can always play online. Everything remains the same in regards to the theme, playing options, and how you win.