Have you ever realized that Aristocrat likes to use the world "wild" in some of its slot machines?
Wild Splash slots is yet another example of this. With incredible audio, stunning graphics, and a Chinese theme, you won't find yourself bored when playing this game. Instead, it will be a wild ride from start to finish.
With so many slot machines to choose from, including a variety of new offerings from Aristocrat, we know how difficult it can be to make up your mind. It's our hope that this review gives you a better idea of how to play and what to expect.
A Player Friendly Setup
When was the last time you sat down at a slot machine and realized you were in over your head? Some games are entirely too complex to understand, especially for players who are new to the casino floor.
Fortunately, Aristocrat developers have realized that this is a problem. And that's why all its games are easy to understand and play. This is particularly true of Wild Splash, as the player friendly setup will have you spinning the reels in no time at all.
It all starts with the 5-reel, 40-payline configuration. This isn't one of the more exciting layouts, but it doesn't take anything away from the features and benefits of the game.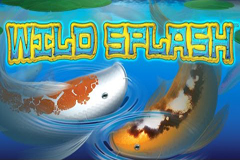 Note: making things even easier is the fact that you are not given a choice as to how many paylines to bet. Instead, you have to place a wager on all 40.
Sticking with the simplified theme, payouts are based on two factors:
The amount of your initial wager.
The symbols that you land on the winning payline.
Just the same as all slot games, this one has a high "risk-reward" factor. If you're feeling lucky, you'll want to wager more money. With additional cash on the line the potential for higher payouts is much greater.
Wild Splash Slot Machine Reel Symbols
Playing card symbols are the most common. These are also the lowest paying, so you don't want to come across these often (of course, any win is better than none at all).
Other reel symbols, those that are attached to larger payouts, include a temple, turtle, and violin among others. These don't come about as often, but when they do your chance of winning big is much greater.
If you want to win big – and we know that you do – be on high alert for the fish symbol. As a wild, it's used to replace any other symbol. While it only appears on reels two through four, it's plenty powerful enough to make a major difference.
Speaking of important symbols, the lotus is set as the scatter. With this, you don't have to worry about where it lands on the screen. As long as it shows up somewhere you're in better position to win.
Go Bonus Wild
As noted above, the scatter symbol can help you win more during base gameplay. But there's something else about this symbol you need to know: three or more will activate as many as 25 free spins.
During the free spin game, extra wild symbols are added to the reels. So, once again, you maximize your chances of winning.
Also, if you're lucky enough to collect three or more scatters during a free game, you can retrigger the bonus.
Learn How to Play
If you want to learn more about playing Wild Splash slots, you should sit down, examine the paytable, and spin the reels a few times. This firsthand experience will help you better understand everything the game offers.
Of course, you can also rely on this review, as well as other online content, to fill yourself with knowledge. For example, you can watch a video of a player winning big at Sands Casino.
Thanks to the power of the bonus game, this player won nearly 23,000 credits.
Our Final Thoughts
It's difficult for some players to overlook the fact that Wild Splash doesn't offer high base gameplay payouts. Even so, you don't want to stay away because of this. There is plenty of money to be won during the free spin round, as well as other benefits such as:
Impressive audio and graphics.
Enjoyable theme.
The use of wild and scatter symbols.
If nothing else, this review should provide you with an inside look at how to play. If you decide to get started online or in a casino, you'll have the information you need to hit the ground running.