As a forward thinking and innovative slot machine company, Aristocrat continues to find new ways to take the industry by storm.
If you've never heard of Wonder 4 slots, you're missing out on an experience that many consider to be one of the best on the casino floor.
As the name suggests, this slot machine gives you the opportunity to place wagers on four separate games, all without having to jump from one location to the next. How cool is that?
The four games that you can access include:
As a multi-play machine, Wonder 4 is unique in a variety of ways. Even if you've played the above four games individually, you'll still want to check out this experience when you get a chance.
Note: the original Wonder 4 offering is a game changer, but Aristocrat didn't stop there. It has also rolled out Wonder 4 Deluxe, which uses the same premise but provides access to a different set of games.
Playing is Easy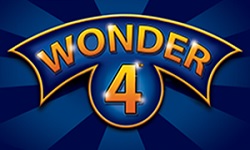 At first, due to the "four game in one" setup, it's easy to believe that you'll never catch on to what you should and shouldn't be doing. This isn't true in any way, shape, or form. The game may be unique, but it's anything but confusing.
Once you get used to the fact that you can play four games from one machine, everything will come together. After a few minutes and several spins, you'll see what's expected of you and how to approach the machine in the future.
Getting started is simple, thanks to the drag-and-drop functionality that allows you to choose your game.
Note: you don't have to worry about a small gaming screen, as Aristocrat used a massive display to ensure that you can easily see what's going on.
Betting Flexibility
With a starting bet of a single penny, a Wonder 4 slot machine can be played by almost anybody.
Of course, if you want to wager more, the opportunity is there. Just how much you can bet depends on the game that you select.
Regardless of your choice, there are plenty of large jackpots to be had. These range from 1,500 to 25,000 credits, with this once again based on the game you're playing.
Wait, There's More
The setup alone is enough to make Wonder 4 a big hit in pretty much any casino. After all, it's not every day that you have the opportunity to play a machine that has four games in one.
However, Aristocrat didn't stop at the basics. The company added in a few additional features, allowing you to have an even better experience.
Let's start by saying this: even though you're playing within the Wonder 4 slot machine, you can still access all of the bonus features of each individual game.
This means many things, including the use of a wild and scatter symbol, as well as a free spin feature.
What to Expect
It's hard to imagine that a multi-play machine would be able to do everything right, but that's what you get here.
There's no clunky interface getting in your way. There's no confusion as you jump from one game to the next. Instead, everything is smooth and exactly what you'd expect.
If you've individually played the four games that make up Wonder 4, you know that these are similar. For example, there are five reels, plenty of features, and above average sound and graphics.
Even so, every slot machine by Aristocrat is unique. And that's what makes this such a special offering. You have access to four games via the same machine, allowing you to pick and choose, jump around, and do whatever it takes to feel comfortable with your experience.
Will You Play a Wonder 4 Slot Machine?
Face the facts: there's nothing quite like Wonder 4 on the casino floor. Aristocrat did something special when it designed this game, and from day one it's been a player favorite.
This doesn't mean you'll absolutely enjoy the experience, but you'll never deny the fact that it's 100 percent unique.
At SlotsJack, there are a few things in particular that we enjoy:
The easy to understand interface, providing the ability to customize your experience without any unnecessary steps.
The inclusion of four top titles.
Access to the individual features that make all four of these games enjoyable when standing alone.
Note: if you want to learn more, you can watch the official company promotional video here.
Although you won't find the Wonder 4 slot machine game in every land based casino, many of the top establishments, such as those in Atlantic City and Las Vegas, offer it in large numbers.
As long as you can find a seat, it's a game that's worth your time. Even if you don't stick around for long, the experience is one of a kind.