Aristocrat has never been afraid to take a risk with a slot machine theme, which is evident in many ways when reviewing its Yardbirds game.
Can you imagine any other company in this space developing an entire game based on a chicken theme? As silly as this sounds, innovation has been and probably always will be priority number one at Aristocrat. In other words, the company doesn't want to be the same as the competition. It wants to be better.
The farm theme, cartoon inspired graphics, and laid back approach attracts players from all walks of life. When you combine this with a 3×3 configuration, you also have a machine that is easy to understand and play.
Players Love Animals
As a slots player, you've probably come across a variety of animal inspired games. For example, Turtle Treasure has a lot to offer.
With Yardbirds, there are animals everywhere. It doesn't matter where the reels land or how much you've wagered, there's no escaping the fact that you'll feel like you're on a farm as you play.
Some of the reel symbols include a fox, rooster, bird seed, weather vane, and of course, chickens.
Speaking of reel symbols, keep your eyes peeled for the Free Spins icon. Just as the name implies, this is the one to look for if you have hopes of playing on the house. Three of these are good enough for a group of free spins.
A Farm Full of Features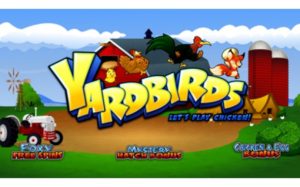 A Yardbirds slot machine would not be very exciting if you were stuck in base gameplay the entire time. Fortunately, you don't have to concern yourself with this.
The machine is full of extra features, all of which are designed to improve your experience and help you win more money, more often.
There are three distinct bonus features:
Foxy Free Spin Bonus. You never want to see a fox roaming around a farm, but in this game there's nothing wrong with cozying up to this creature. When you collect three Free Spin symbols, this bonus round is where you'll end up. As the reels spin, remember that the fox symbol acts as a wild. The more of these you see the greater chance you have of winning.
Chicken and Egg Bonus. If you collect three or more bonus symbols, you're taken to this feature. It's you vs. the fox during this game, with each of you alternating in choosing an egg. Each egg reveals your winnings, so cross your fingers and hope for the best.
Mystery Hatch Bonus. There's nothing special about this bonus game, but the opportunity to have fun and add money to your account should be enough to keep a smile on your face.
You won't spend all your time in one of these three bonus games, but the opportunity is there. If you play long enough, it's likely that you'll get your chance to experience each one.
Note: gaining access to a bonus feature is the hard part. Once you're there, winning is second nature.
Reasons to Play a Yardbirds Slot Machine
The SlotsJack team loves to have a good time. While every game has the opportunity to provide thrills, it's often the theme that makes or breaks your experience.
If fun is on your mind, Yardbirds will never disappoint. This is due in large part to the farm based theme with a cartoon twist.
In addition to the theme itself, there are a few other reasons to get involved:
A classic 3×3 configuration that is simple to learn.
The graphics and animation are well above average.
Access to three of the best bonus features that Aristocrat has to offer.
Are these the types of things you enjoy in a slot machine? If so, you can get your fill by playing Yardbirds.
Have a Good Time
It's hard to imagine that Aristocrat was able to pull off a theme like this. Sure, Angry Birds was a big hit, but the slot industry is a different beast entirely.
It may not be the top game on the casino floor. It may not even be one that you consider at first. Even so, Yardbirds has a way of attracting players.
Just the same as Rhino Charge, you may not expect much from this game. But once you spin the reels, experience the bonus features, and win a few bucks, everything begins to change. It's definitely a game that deserves a look if the opportunity arises.