It's hard to know what to expect with a name like Zhanshi, but this slot machine by Realtime Gaming (RTG) is beginning to make a name for itself.
It doesn't matter if you're spinning the reels in a land based casino or online, it's hard to avoid the many Chinese themed slot games (not that you would want to). For this reason, many players were concerned that Zhanshi slots would not be able to stand out from the crowd. Fortunately, this has never been a problem.
As one of the newest RTG slot machines, there's a lot to like. For example, the 3D graphics keep you involved, even if you're not winning. Along with this, the theme is unique enough to attract even the most experienced players.
The First Time Playing a Zhanshi Slot Machine
Playing this machine for the first time is an enjoyable experience, as you never truly know what you're going to face.
With five reels and 20 paylines, Zhanshi has the same layout as many other online slots. This configuration, as simple as it may be, lends well to the ability for many types of players to get involved.
For example, low budget bettors have the opportunity to spin the reels for a single penny. On the high side, you can wager a quarter on each of the 20 paylines, making for a total bet of $5.
If you're concerned that Zhanshi slots may not suit your style, don't wager any money just yet. Instead, spin the reels for free as you focus on learning more about the game.
Just like most RTG games, this one has a free version that shares all the same features with the real money machine.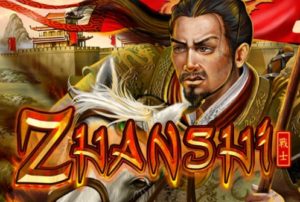 Note: as a new release, Zhanshi is also a mobile friendly game. In short, you can access the same featured packed slot from your Android or iOS device.
Features for All
The history of China spans 5,000 years, meaning you probably don't know everything about this great country. Fortunately, you don't need much (if any) knowledge in order to play.
The background, as well as the reel symbols, are all based on ancient Chinese culture. Along with this, the music has a distinct oriental theme, allowing you to get in the right frame of mind as the reels spin.
The Zhanshi warrior plays a big part, as he can take you to a bonus feature in which you receive 25 free spins. Plus, this symbol acts as a 3x multiplier during the bonus round.
The other bonus round comes about when you collect three or more temple scatter symbols.
Speaking of extra features, how would you like to win a progressive jackpot? Awarded at random, we've never seen it dip below $1,200. Conversely, don't be surprised if you see the jackpot eclipse $3,000 every now and again.
Play Zhanshi Online
Even with a theme that has been done many times before, RTG was able to turn the Zhanshi slot machine into a winner.
It won't knock you off your feet, but there are plenty of features to keep players engaged. When you combine this with 3D graphics, soothing audio, and a variety of ways to win big money, you have an enjoyable slot that has the potential to remain popular for many years to come.