Are you familiar with the fictional character Zorro? If so, you'll really enjoy what this slot machine by Aristocrat has to offer.
Even if you don't know the first thing about the masked man, it doesn't mean you can't play this game. Just the same as other machines by this company, such as Britney Spears, you can sit down and quickly learn what it takes to play.
Before we go any further, let's take a quick look at what this Zorro character is all about:
The word Zorro is Spanish for fox.
When he's not Zorro, the masked man goes by his given name: Don Diego de la Vega.
The character was introduced for the first time in 1919 by Johnston McCulley.
Later in this Zorro slot machine review, after we discuss the details of the game, we'll touch on a few other tidbits about this character in popular culture.
The Slot Game
There are 5-reels and 25-paylines guiding all the action. As you sit down to play Zorro slots, you can place a wager on as many paylines as you want.
On the low end, you can wager a single penny. This is perfect for players on a budget or those who are more interested in seeing how the game works before getting in too deep.
Conversely, high rollers will really enjoy the machine. This is because you can wager up to $175 per spin, giving you the opportunity to experience a thrill of a lifetime.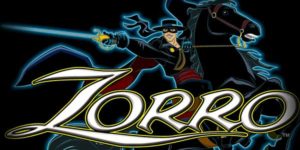 Note: Aristocrat is well known for its large library of games, but there aren't many that allow you to bet more money than Zorro.
Although it's easy to get caught up in the money side of things, don't let this detract from the theme, graphics, and audio.
Winning any amount of money will give you an adrenaline rush, but it's the jackpot potential that will have you on the edge of your seat. If you're lucky enough to win, your account will be credited with $25k!
A Favorite Among Bonus Chasers
Are you the type of player who enjoys slot machine bonus rounds? If so, you're going to fall in love with Zorro slots.
It's important to enjoy yourself during base gameplay, as this is where you'll spend most your time, but don't forget that there are five bonus features that pop up every now and again.
Take for example the bonus round that begins when you collect the letters, from left to right, that make up the word "Zorro." This will lead you towards one of several bonus games, such as:
Wild Z
Magic Door
Tornado
Choose a Barrel
Match a Prize
Each bonus game is unique, so you may want to play until you have the opportunity to experience each one.
For instance, the Choose a Barrel feature gives you 20 free spins. If this sounds exciting, consider the following: the Wild Z bonus game is good for free spins as well as the addition of wild symbols to the reels.
Note: a multiplier is used in all five bonus games, meaning that every win is larger than what you initially see.
Play a Zorro Slot Machine Online
It's hard to hold back from this game when you come across it on a casino floor. The same holds true when playing online.
Here are some of the top reasons to play via the internet (if it's legal to do so in your country):
The details are identical to the land based game, meaning you don't have to contend with a learning curve.
It's more convenient to not only play this game, but to also jump around to others if you so desire.
You have the option to play for free or with real money.
Free online Zorro slots have become a popular choice, as this provides an enjoyable experience without the risk of losing any cash.
Zorro Movies: They're All Popular
Every Zorro movie, regardless of when it was released or who stars in it, has been extremely popular. Some of the best include:
The Legend of Zorro
The Mask of Zorro
The Mark of Zorro
Zorro, the Avenger
Zorro's Fighting Legion
Have you ever watched one of these movies? If so, you probably have a good idea of why Aristocrat selected this character to be the central theme of a slot machine game.
The SlotsJack Opinion
Let's face it: most people are a sucker for a good Zorro movie. Even if you've seen them all, there's nothing wrong with watching each one again.
The same holds true when it comes to Zorro slots. Maybe you've played the game in the past. And maybe you haven't had the most success. However, if you stick with it, things could soon change in the future.
Our opinion of this game is simple: it's one of the best machines Aristocrat has ever released. Here's why we feel this way:
The theme is well known, unique, and extremely exciting.
The jackpot is big enough to keep players engaged.
There are five unique bonus games.
When you combine the above with the fact that you can play online, you can see why we feel the way we do.